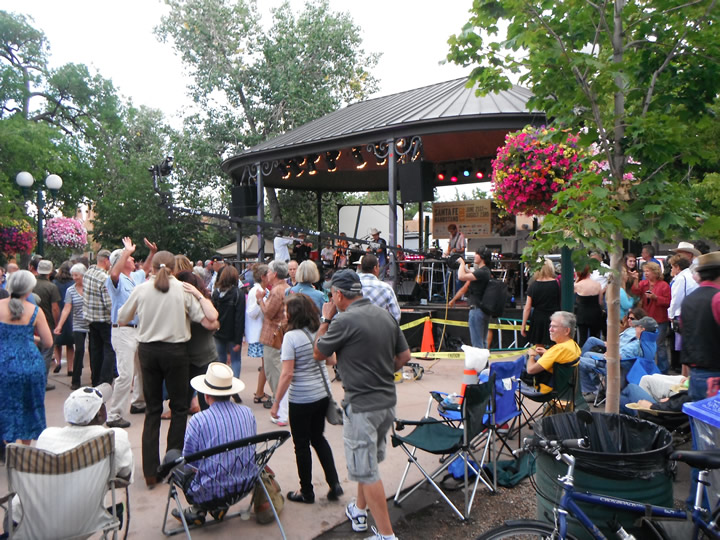 Listed below are a few of Santa Fe's many venues for entertainment:   
Santa Fe is very wealthy when it comes to good music, tasty food, and great entertainment!  No reason to sit around being bored and hungry.  Get out there and have some fun in the City Different.
Santa Fe Reporter – Events Calendar
Santa Fe New Mexican – Events Calendar
Santa Fe Recording Studios:
Kitchen Sink Studios (Jono Manson)
Cowgirl BBQ
319 S. Guadalupe St.
Santa Fe, NM
(505) 982-2565
Popular with the locals – it's a raucous, wild place! Front patio open in good weather. Separate music events are sometimes booked for afternoon and evening. Tourists like it, too, and it's close to downtown.
http://www.cowgirlsantafe.com/
La Fiesta Lounge
La Fonda Hotel
100 E. San Francisco St.
Santa Fe, NM
(505) 982-5511
Used to be one of our favorite venues before alterations spring 2016, located downtown in Santa Fe's most historic, famous hotel.  Attracted locals as well as the expected tourists, it used to be a great place to dance or people watch.  Unfortunately it now looks/feels like an airport lounge.  No cover.
http://www.lafondasantafe.com/dining-entertainment/la-fiesta-lounge
El Farol 
808 Canyon Road
Santa Fe, NM
(505) 983-9912
Historic location on Canyon Rd., close to lots of art galleries. Upscale rustic. No actual stage. Sometimes a cover.
http://www.elfarolsf.com/ 
Evangelos
200 W. San Francisco St.
Santa Fe, NM
(505) 982-9014
Second Street Brewery at the Railyard
(One of two Second Street Brewery locations)
1607 Paseo de Peralta
Santa Fe, NM
(505) 989-3278
Large room in an industrial building in the Railyard District. The original location is on Second Street. Both locations attract a lot of locals enjoying a night out with good food and handmade beer. Neither location has an actual stage. Usually bands, no cover.
http://www.secondstreetbrewery.com/
Tiny's Lounge
1005 St. Francis Drive
Santa Fe, NM
(505) 983-9817
A favorite local dive – restaurant and bar.  Casual.  Raised stage, dance floor.  Owner is JR Palermo, who carries on the tradition forged by his father and uncle. Good food. They host a bluegrass jam on Tuesdays that's fun. Sometimes they have solo performers/bands featured.
https://tinyssantafe.com/ .
Mine Shaft Tavern
2846 NM 14
Madrid, NM
(505) 473-0743
In Madrid, an old mining town 15-20 miles from Santa Fe – you might have seen the town featured in the movie "Wild Hogs."  On a Saturday night when they are in full gear it's a noisy, wild, crazy place!  Usually bands.  Don't thing there's usually a cover.  Inside the tavern they have a stage at one end for the performers.
http://www.themineshafttavern.com/